The HRC Municipal Equality Index (MEI) examines how inclusive municipal laws, policies, and services are of LGBTQ+ people who live and work there. Cities are rated based on non-discrimination laws, the municipality as an employer, municipal services, law enforcement and leadership on LGBTQ+ equality.  The full report is available on the HRC website.
This year, eight cities in Delaware received scores.   Cities that participated are: Bethany Beach, Dover, Middletown, Milford, Newark, Rehoboth Beach, Smyrna, and Wilmington.   Of the eight cities that participated, six fell below the national average score of 69.
Cities that die not participate include: Bear, Glasgow, Brookside, Hockessin, Lewes, Milton, and Long Neck.  Here is where the participating cities ranked.
If your city was not ranked, click here to submit a request for your city to be scored.
The Rankings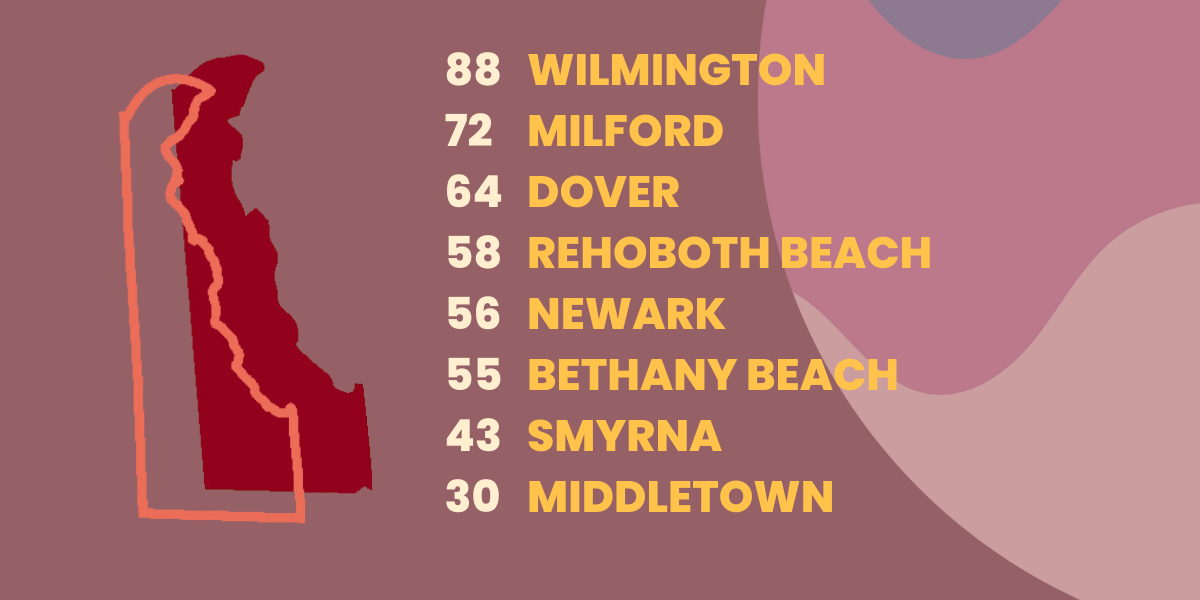 88: Wilmington
Wilmington received the highest score of any city in Delaware.
read the full report: Wilmington Delaware HRC Municipal Equality Index
72: Milford
Milford is the only city to score points for explicitly offering gender affirming care for transgender and nonbinary city employees.
read the full report: Milford Delaware HRC Municipal Equality Index
64: Dover
Of the 120 cities surveyed, the average score was 69.   Dover is the first city on our list to score below average.
read the full report: Dover Delaware Municipal Equality Index
58: Rehoboth Beach
Rehoboth Beach received a score of 58 for the third year in a row.
read the full report: Rehoboth Beach Delaware Municipal Equality Indes
56: Newark
Newark could increase it's score with a city contractor non-discrimination ordinance.
read the full report: Newark Delaware Municipal Equality Index
55: Bethany Beach
Like other Delaware municipalities surveyed (with the exception of Smyrna), Bethany Beach Reports Hate Crime statistics to the FBI.
read the full report: Bethany Beach Municipal Equality Score
43: Smyrna
25% of cities scored under 51 points.  Smyrna is the first city on our list to fall in the bottom 25%.
read the full report: Smyrna Delaware Municipal Equality Index
30: Middletown
While middletown received the lowest rank on our list, there are other cities in Delaware that would likely score lower. Please submit a request for your city to be scored if it is not presently being scored.
read the full report: Middletown Delaware Municipal Equality Index